How Much Does It Cost for an Oil Change?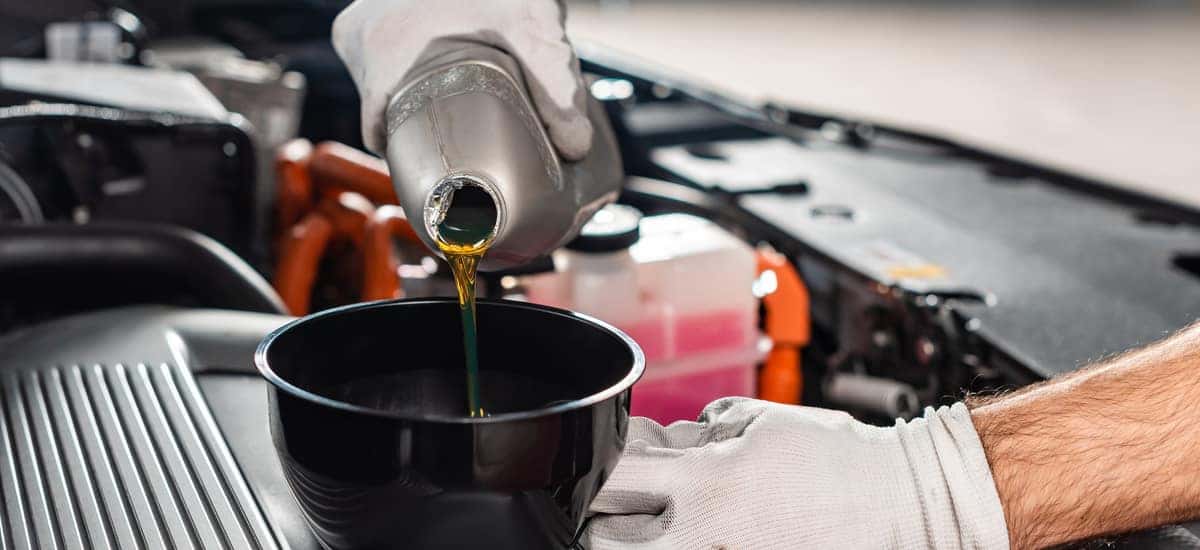 If you're planning to schedule your next maintenance appointment around Charleston, you might be wondering, "How much does it cost for an oil change?" On average, an oil change will set you back between $25 and $50 using regular oil and $45 to $70 for synthetic oil. However, a number of variables go into your oil change cost – and if you're still under warranty, you might not have to pay anything at all! Let the service department at Tony T Chrysler Dodge Jeep Ram of Orangeburg answer, "How much is an oil change?"
---
How Much Does a Synthetic Oil Change Cost?
How much does an oil change cost? While a conventional oil change might cost under $50, a synthetic oil change is typically higher at $45 to $70. Why is that? Synthetic oil is designed with a more sophisticated formula that's built for high-performance engines. This oil is more expensive up front, but it also lasts longer than conventional formulations. Your car may need synthetic, but it might run just as well on conventional in Columbia, or even a blend of conventional and synthetic motor oils! How do you know just what your car needs? Look inside your owner's manual or contact our service department. Our technicians can help advise you on the best practices for your make and model.
Why Choose Tony T Chrysler Dodge Jeep Ram of Orangeburg for Your Service?
If you're driving through the Lexington area, Tony T Chrysler Dodge Jeep Ram of Orangeburg is only a short drive away in Orangeburg – and we're well worth the trip! Why choose us over the competition?
Our certified technicians are trained extensively and offer years of experience in the automotive industry. That means you can drop off your vehicle with absolute confidence.
We work hard to give our customers the best deals possible. Whether performing free maintenance checks under warranty or offering rotating service coupons, we're happy to keep you under budget! Because we value transparency, when you ask us, "How much does it cost for an oil change?" you'll get a straight answer.
Regular maintenance is the key to your vehicle's longevity, so we offer thorough inspections and diagnostic services to pinpoint any potential problems. Don't hesitate to ask about anything unusual you encounter on the road!
Schedule Your Service Today
If you want an exact quote on how much is an oil change, feel free to contact us at Tony T Chrysler Dodge Jeep Ram of Orangeburg. We'd be happy to help! You can also schedule an appointment online if you're due for an oil change or tire rotation. We only use OEM parts in our oil changes. We look forward to bringing out the best in your vehicle!
More from Tony T Chrysler Dodge Jeep Ram of Orangeburg
While fewer new vehicles offer manual transmissions, fun-to-drive paddle shifters are becoming more popular. Both put Charleston drivers in control of their driving experience. What is low gear in a car with a manual transmission or paddle shifters? Do you know when to use low gear? Tony T Chrysler Dodge Jeep Ram of Orangeburg takes a look at low gear so you…

There's so much to love about the 2021 Dodge Charger, like the standard 292-hp 3.6L V-6 engine, and seven distinct trim levels that include: SXT RWD – $30,245 MSRP GT RWD –$32,245 MSRP R/T (RWD only) – $37,245 MSRP Scat Pack (RWD only) – $41,920 MSRP Scat Pack Widebody (RWD) – $47,915 MSRP SRT Hellcat…

If you're wondering, can you lease a used car near Charleston, the answer is yes! At Tony T Chrysler Dodge Jeep Ram of Orangeburg we offer our customers used car leasing, which will not only give you the lower monthly payments that come with leasing, but also the more affordable price of a used car. How does used car leasing work? Can…
More from Tony T Chrysler Dodge Jeep Ram of Orangeburg
While fewer new vehicles offer manual transmissions, fun-to-drive paddle shifters are becoming more popular. Both put Charleston drivers in control of their driving experience. What is low gear in a car with a manual transmission or paddle shifters? Do you know when to use low gear? Tony T Chrysler Dodge Jeep Ram of Orangeburg takes a look at low gear so you…

There's so much to love about the 2021 Dodge Charger, like the standard 292-hp 3.6L V-6 engine, and seven distinct trim levels that include: SXT RWD – $30,245 MSRP GT RWD –$32,245 MSRP R/T (RWD only) – $37,245 MSRP Scat Pack (RWD only) – $41,920 MSRP Scat Pack Widebody (RWD) – $47,915 MSRP SRT Hellcat…

If you're wondering, can you lease a used car near Charleston, the answer is yes! At Tony T Chrysler Dodge Jeep Ram of Orangeburg we offer our customers used car leasing, which will not only give you the lower monthly payments that come with leasing, but also the more affordable price of a used car. How does used car leasing work? Can…